Feline Focused Coloring Book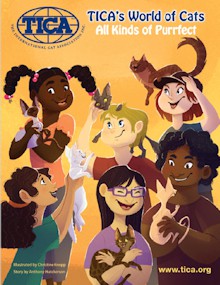 TICA's World of Cats: All Kinds of Purrfect is a brand new coloring book for all ages presenting the diverse beauty of the cats of The International Cat Association (TICA), the world's largest genetic registry of cats. "TICA recognizes the distinctive looks of pedigreed breeds and household pets of no breed at all. Cats are masterpieces of nature, each one is perfect or "purrfect", notes TICA President Fate Mays.
The book contrasts the distinguishing characteristics of the cats with an array of people reinforcing beauty, like felines or humans, comes in different shapes, sizes and colors but all are "purrfect" to someone. Copies of the book will be available for free to spectators at The International Show at the Holiday Inn PDX January 29-31, 2016. The illustrator and author will be on hand for signings, with cats to pet from 12-1 PM Saturday & Sunday.
猫のぬり絵
TICA's World of Cats: All Kinds of Purrfect はTICAの様々な美しい猫が載ったあらゆる年齢の人を対象として発売された塗り絵です。「TICAは血統書付きの猫種と雑種のペットを特徴的な外観から識別しています。猫は自然が作り出した最高傑作であり、それぞれが完璧です」とTICAの会長であるFate Maysは述べています。この本には、形、大きさ、色がさまざまな猫または人のように、猫と美を強化する人々の目立った特徴が対比して描かれています。塗り絵に加えて、この本にはTICAに承認された全ての猫種のフルカラーのブリードチャートも含まれています。活動に関するページや自分で猫のおもちゃを作る方法なども特集しています。
TICA's World of Cats, All Kinds of Purrfectは2016年に世界中のTICAのショーでのみ入手できます。
Cats in Your Community
Written by Catherine Johnson | February 11, 2016
The New Culture Club, a not-for-profit volunteer cat club affiliated with the International Cat Association, hosted the International Cat Show for the 11th year at the Holiday Inn conference center from January 29 through 31. Thousands of people attended the weekend-long event, which included a food drive benefiting the Oregon Food Bank.
Pamela Barrett, the International Cat Show manager, has traveled all over the world as a judge and is celebrating her 40th anniversary doing cat shows. "I've always felt it was my job to introduce people to cats, and cats to people," said Barrett. "There's a cat for every personality, every style from modern art to traditional. They are the way I feel we connect to nature, because we are so computerized and connected. To me, your pet is how you connect through the living world." Barrett said this year they had record attendance numbers, which may be because it's the first year they used social media in attempts to reach younger people.
"I'm an older generation person, and this year I went out and worked social media," said Barrett. "Old dog, new tricks! Old cat!" The marketing director for TICA, Roeann Fulkerson, believes that cats are the number-one pet in the United States and are only growing in popularity. Read More.

猫のコミニュティ
TICAと提携している非営利ボランティア組織であるNew Culture Club は1月29日から31日までホリデイイン会議場で11年目の国際キャットショーを主催しました。数千人の人々がオレゴンの食糧銀行に送るためのフード・ドライブを含む週末にかけて行われたイベントに参加しました。
TICAのマーケティングディレクターであるRoeann Fulkersonは、猫はアメリカでNo.1のペットであり、人気が高まっていると考えています。
103ヶ国で、TICAは人々に、屋内に入る猫は頻繁に屋外に出ている猫より5倍長く生きることなど、正しい猫のケアに関して教育を行っていることに誇りを持っています。TICAの任務は血統書付きの猫を守り、飼い猫の健康を保つことです。
ショーの利益は全て慈善団体に寄付されます。
コロンビア、ロシア、ドイツ、ベルギー、オーストリア、カナダ、韓国、日本など、世界中の人々が週末にポーランドを訪れます。
ショーにはまた、オレゴンのダラスで繁殖されたラパーマや、イースタンワシントンのピクシーボブなど太平洋岸北西部の品種も展示されています。
A Brief History of Post Office Cats
When the Royal Mail announced that it will be opening a Postal Museum and Mail Rail exhibition that will feature a restored section of a little-known underground railroad, it kind of buried the real story. Sure, the institution is responsible for such mail-delivery revolutions as the postage stamp and the iconic red pillar mailbox, but the upcoming heritage effort is exciting for more than mere philatelic history. Located beneath the streets of London, the Royal Mail will also pay tribute to the phenomenon of post office cats.
The Guardian's Maev Kennedy reports that the museum will feature a display paying homage to the the postal system's furry employees of yore-post office cats with their own wages and pensions. Early postmasters weren't necessarily cat lovers; they needed a way to get rid of mice. So they brought cats in to their buildings. But cats don't eat for free, and in 1868 the Secretary of the Post Office authorized post offices to hire cats, allotting only one shilling, not the requested two, a week to feed all three original cats-over time, the salary of these furry workers would sometimes result in bitter battles over just how much money they deserved. In 1918, a finicky cat helped bump the salary up, giving each cat its own weekly shilling, and that rate remained until the 1950s, when it was revealed that the one-shilling-a-week allowance had stayed the same, though the rate apparently kept up with inflation over the years. Read More.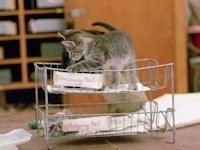 3. 郵便局員猫の歴史
ロイヤルメールは郵政博物館と郵便電車博覧会を開催し、あまり知られていない鉄道の修復部分を紹介する予定です。ロンドンの郵政博物館はまた、昔の郵便局の猫に敬意を表した展示品も展示する予定です。初期の郵便局長たちは愛猫家というわけではありませんでした。彼らはネズミを駆除する方法が必要だったのです。そこで、建物に猫を連れてきました。1868年、郵政局長は郵便局に猫を雇うことを許可し、3頭の猫に1週間1シリングのみを与え、時々この給料により論争が起こるようになりました。1918年、1頭の猫が、他の猫たちに毎週自分のシリングを与え、その額は1950年代まで変わりませんでした。Tibs the Greatはロイヤルメールの最も有名な郵便局員猫でした。Tibsは14年間にわたりロイヤルメール本社の猫として活躍しました。Tibsが死んだ時、雑誌に死亡記事が掲載され、褒めたたえられました。
スミソニアン国立郵便博物館の館長Daniel Piazzaは、郵便局は犬も飼っていたと言います。「犬は郵便局のマスコットになる傾向があります。郵便局の職員にペットとして飼われていましたが、猫は働く動物とみなされていました」今日では、害虫駆除業者と「犬禁止」ルールにより、郵便局のペットは過去のものとされました。しかし、空腹の猫を背景に建てられた現代の郵便事業を考えてみるのも楽しいです。
Do you have the purr-fect cat? Entries open for feline of the year
Do you have a remarkable cat? A Sussex-based charity is launching a competition to find the nation's bravest, caring and friendliest felines.
Finalists will go whisker-to-whisker with cats from the rest of the country to compete for the title of National Cat of the Year.
The title was won in 2014 by Cleo who helped raise the alarm and provide comfort when owner Richard Jenkins suffered a heart attack.
Owners have until noon on Friday 29 April to nominate their cat for one of the following categories:
Hero Cat - Cats that save the day
Most Caring Cat - Cats that have a positive impact on an owner's health or wellbeing
Furr-ever Friends - Tales of friendship between children and cats
Outstanding Rescue Cat - Felines adopted from animal welfare organisations
Enter Now.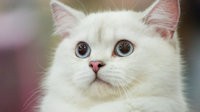 Preparing Your Pets for Emergencies Makes Sense. Get Ready Now.
While people tend to think in terms of "seasons" (tornado, hurricane, flood, blizzard, etc...) you should ALWAYS have a disaster preparedness plan in place because a disaster also includes fires, and other unexpected catastrophic events.
The International Cat Association (TICA) works to preserve the welfare of cats around the world, and want to make sure you and your cats are safe from harm. Our disaster preparedness plan will help make sure you're not caught off guard.
Our disaster checklist will help you plan ahead and assemble an emergency plan and "kit" that you can have on hand all year round. Have peace of mind for you, kitty and your family by using TICA's downloadable checklist. Read More.
緊急事態に備えてペットのために準備
人々は「四季」(竜巻、ハリケーン、洪水、猛吹雪等)に関しては考えていますが、災害には火事やその他の予測不可能な大惨事もあるため、常に災害対策計画を立てていなくてはなりません。
TICAは世界中の猫を幸福にし、あなたと猫を災害から守りたいのです。そのためには災害対策計画と「キット」が必要です。TICAのチェックリストをダウンロードして気持ちにゆとりを持ちましょう。
災害チェックリストは、緊急計画に役立ちます。
・TICA災害対策計画チェックリスト
・FEMA緊急準備ガイドライン
・国内のペット対応シェルター(US)
・国内のペット対応ホテル(US)
・世界のペット対応ホテル
Newest Internet Celebrity: Felix the Cat Who Lives in a British Train Station
By Robert Paul Reyes
Felix, the cat was brought to the train station five years ago to catch mice at the age of only nine weeks old, she has now been promoted to Senior Pest Controller.Now that she`s in management Felix gets to wear a reflective vest and a name badge. Her new status hasn`t gone to Felix`s head, she stills goes about her daily routine of catching and killing mice.
Felix the cat`s popularity on the Internet has grown following her promotion, but she still has a long way to go to reach the heights of Internet glory achieved by the likes of Grumpy Cat.
Link to Video..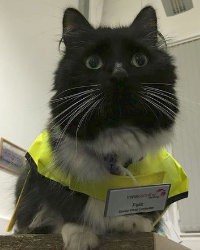 Nissan reminds us to check for sleeping cats before starting cars with adorable montage
Nissan is on a roll this week with clever commercials!
First it was the intelligent parking chairs, and now it's this insanely adorable public service announcement/cute cat montage reminding everyone to check their cars for napping kitties before starting them. Nissan has even come up with a hashtag for their campaign: #KnockKnockCats! Well, it works a bit better in Japanese as #猫バンバン (#nekobanban), which has literally the same meaning, but just sounds cuter. Please don't actually go around knocking on cats!
As you probably already know, cats love warm places and sleeping - and in the winter, warm places for sleeping are in relatively short supply. Cars, though, often provide comfy places for our feline friends to nap, which can have disastrous results if you start your engine while a kitty is purring away on the engine. Of course, you might also find them in the tire wells, so giving your car a good thump or two should wake any sleeping kitties and get them out before you drive away.
So be sure to check your car before you start it, or this very angry cat will haunt your dreams for the rest of your life! Watch Now.
This Lady Vows to Herd Felines at Amazing Acro-Cat Circus in Phoenix
Standing up on her hind legs, tail languidly snaking back and forth, Tuna the cat flips the page on a pink easel, revealing a sign that reads in bold block letters: "Welcome to the show." The audience squeals in delight, then bursts into laughter when she bats down the next page, cheekily demanding: "Applause." That's just the beginning of the Amazing Acro-Cat circus, which will perform in Phoenix for two weeks beginning February 25. During the show, organized to encourage people to adopt pets from local shelters and rescues, Tuna and her 13 feline colleagues also jump through garland covered hoops, balance on rolling balls, walk tightropes, and even play in a band called "The Rock Cats." All the performers are rescued orphans and strays.
"Their music is terrible," says Samantha Martin, the cat's trainer, who calls herself "chief executive human" of the operation. "But it's really amusing to see all these animals plucking at guitars, pinging at the piano, and playing the drums." Martin describes The Rock Cat's style as "free form jazz meets noise band," but admits, with a giggle, "they just play whatever they feel like playing." They are, after all, cats - animals so notorious for their disdain for direction that they inspired the cliche "hard as herding cats." Read & Watch More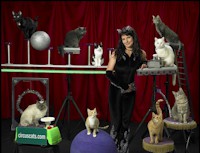 フェニックスのAmazing Acro-Catサーカスに猫を集結
Tunaが後ろ足で立ち、しっぽをくねらせ、ページをめくると、「ショーへようこそ」と太字で書かれた文字が現れます。聴衆は歓声を上げ、Tunaが次の頁をめくると、「拍手」と書かれた文字が現れ、どっと笑いが起きます。2月25日から2週間、フェニックスでAmazing Acro-Catサーカスが始まります。ショーの間、人々に地域のシェルターや保護センターにいるペットの里親になるよう呼びかけています。
Martinは、猫を訓練することができないというのは間違っている、と断言しています。「猫達に正しいモチベーションを与えればいいのよ」とMartinは言います。
犬は単純に人を喜ばせるために芸をしますが、猫は気難しいのです。「モチベーションは食べ物よ。猫にはその方がもっと大切だから」とMartinは言います。
ショーの最後に里親が必要な猫を選んで連れてきます。これまでAmazing Acro-Catショーで159頭の猫の里親が見つかりました。