21 Unrealistic Expectations We Have About Cats Because Of "Sailor Moon"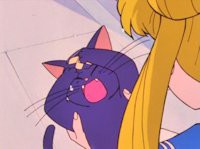 If you were a big fan of "Sailor Moon" growing up, then we're guessing that you're totally a cat person.
After all, that TV show made cats out to be the coolest best friends you could ever have. Who wouldn't want to be granted magic powers from a talking feline companion?
But even if you're now a bonafide cat lady, you've gotta admit: "Sailor Moon" lied to us. Oh sure, we always knew our cats couldn't talk and probably weren't magic, but there's a lot of stuff we love about Luna, Artemis, and Diana that our own pets will just never be able to recreate. For example! Read More
猫に非現実的な期待をするのは「セーラームーン」のせい
猫がバイドエイドを貼るまで、じっとしている。
(ぜったいそんなことはしません。)
学校に遅れそうになったら猫が起こしてくれる。
(猫が2時間早く起こしてくれるのは、多分空腹だからでしょう。)
犯罪と戦うのを助けてくれる
(強盗に襲われそうになっても、猫は何もしてくれないでしょう。)
猫がコンピューターの使い方を知っている。
(ほとんどの猫がその上に座っているだけです。)
猫が小さなフォークで食べる。
(猫用のヘッドホンもどこで手に入れているのでしょうか?)
あなたがダイエットに必死になっている時に評価する。
(本物の猫はあなたの体重を気にしたりしません。)
事あるごとにあなたを評価している。
(実際、これは本当のことです。猫はそうしています。)
International stars, adoptable kittens at 1950's-themed cat show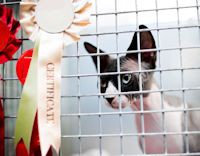 Three Sacramento natives made it to the top of the world, and are back in town this weekend with proof that not all superstars are human. The formerly homeless felines – now international champions - will cheer on other local kittens and cats who are competing against professionals in the Jazzy Cats' "Fabulous 50s Paw Hop."
The fun, fast-paced three-day event is an internationally sanctioned cat show featuring exotic breeds, pedigreed felines and award-winning competitors from across the West coast. Among the challengers will be 10 homeless cats and kittens from Sacramento's Front Street Animal Shelter.
The cat show is organized by Jazzy Cats, local arm of The International Cat Association (TICA). TICA recognizes more than 60 purebred cat breeds for competitions, and is also the world's largest registry of household pet (HHP) cats and kittens. Non-pedigreed felines of every color, age or mixed breed can be registered as HHP. Registered HHP felines can compete internationally just as purebred felines do, and their owners take it just as seriously. This weekend's 50s Paw Hop will include championship contests for HHP cats and kittens, as well as competitions between their purebred counterparts. Read More
キャットショーで子猫たちの里親に
以前は野良猫だった現在国際チャンピオンが、Jazzy Cats' "Fabulous 50s Paw Hop"でプロと競っている地域の子猫や猫に声援を送ります。西海岸中から、外来種、血統書付き猫、受賞歴のある猫たちが3日間の国際的に認可されたキャットショーに出場しました。この中の10頭は、サクラメントのフロント・ストリート・アニマルシェルターにいた猫たちです。このキャットショーの主催は国際猫協会(TICA)の現地機関であるJazzy Catsです。登録されたペットの猫は純血種の猫と同じように国際的なコンテストの出場することができます。Feral Faucetと名付けられた1頭の子猫がJazzy Catsショーで里親に引き取られました。その後、Feralは世界一の子猫として優勝しました。現在、チャンピオンであるScoutは1月にJazzy Catsショーで引き取られるまでは、フロント・ストリートにいました。シェルターのTailor Swiffも今年、コンテストで3位に入賞しました。Feral、Tailor、Scoutはゲストに会うために今週末、ショーに出る予定です。
ショーに出場したシェルターの成猫や子猫の全てがコンテストに出場していないシェルターの猫たち同様、里親を必要としています。すべての里親募集中の成猫と子猫は避妊や去勢手術を受け、行動や健康のチェックを受け、マイクロチップを埋め込まれています。里親になるための費用は85ドルです。
Even Indoor Cats Can Be Exposed to Lawn Chemicals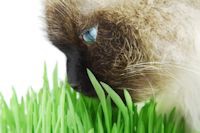 If you have a cat -- especially one that never goes outdoors -- you may not give much thought to the dangers that lawn chemicals can pose for your feline companion. But if you, your homeowners association or your neighbors use fertilizers, pesticides or other chemicals in your yard, your kitty may be exposed to these toxic agents in ways you never even considered.
Obviously, if your cat spends some or most of her time outside (which I don't recommend for the sake of her safety and health), there's a good chance she'll absorb lawn chemicals through her paws, or ingest them when she grooms or nibbles grass or other outdoor plants.
But there's another way your cat can be exposed even if she never steps foot outside. The potentially toxic chemicals found in lawn fertilizers and pesticides come indoors on the shoes of humans and the paws and coats of dogs. Common chemicals found in herbicides, including 2,4-D and dicamba, are easily tracked indoors where they contaminate the air and surfaces inside your home, exposing your kitty to dangerously high levels of these toxins.
室内外の猫も芝生の化学物質に曝露
一度も外に出たことのない猫が、芝生の化学物質にさらされる危険はあまり考えたことはないでしょう。住宅所有者や隣人が庭で肥料、農薬、他の化学物質を使用している場合、猫はこれらの毒物に曝露される可能性があるのです。
猫が外に出ることがある場合、足から芝生の化学物質を取りこんだり、毛づくろいをしたり、草や植物をかじって摂取しています。
また、肥料や農薬は人間の靴や犬の足、毛から入ってくる可能性もあります。
The Faithful Shopper, for the Felines: Couture Cats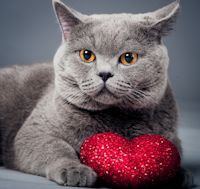 This one's for the felines. Those mysterious and moody yet delightfully playful and snuggly creatures that have captured the hearts of pet owners everywhere. And rightfully so. With their superior attitude, keen knack for comforting weary souls and amusing fondness for spirited fun - not to mention, expert mouser skills - it's no wonder that for many people cats are the "purr-fect" pet. Why not treat your favorite feline to a visit at one of New York City's chic cat-centric centers? Read More
忠実な買い物客:最新流行の猫たち
NYにある猫のためのお店の紹介です。
ウィスカーズ ホリスティック ペットケア
ペットの介護士を育成したり、健康で自然な製品の研究や紹介を行っています。
Popcorn Pawz
おもちゃ、おやつ、洋服、バッグなどのペット製品とともにホリスティックなドッグフードやキャットフードを販売しています。最先端のグルーミングサービスも行っています。
Pet Bar
たくさんのおもちゃ、おやつ、毛玉を吐き出すためのフードを販売しています。
Little Creatures
自然食品を販売しています。ビタミン、サプリメントなどもあります。
Love thy Pet
フォード、おもちゃ、サプリメント、必需品を販売しています。
BARC Shelter
非営利のペットシェルターです。
Mayor's Alliance for NYC's Animals
動物保護団体です。
One Love Animal Hospital
動物病院です。
Bideawee
猫の保護施設です。
Meow Parlour
NY初の猫カフェです。
Koneko
アメリカ発の日本式の猫カフェです。
How to run away and join the cat circus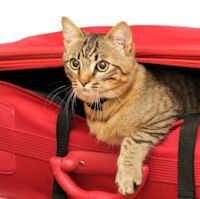 "MUST LOVE CATS!" reads an ad for the reason we're currently packing our bags, wrangling up some catnip, and stocking up on Zyrtec.
Do you "LOVE" cats? (And cat puns?) Is your favorite Disney movie The Aristocats? Have you always wanted to have an illustrious career in showbiz? Then your mewment in the spotlight is here. Ringleader Samantha Martin and the Amazing Acro-Cats are looking for a tour assistant for their traveling cat circus.
Wait, "traveling cat circus tour assistant" is a job that actually exists? You've got to be kitten us. Read More
猫のサーカスに参加しよう
猫が好きですか?ショービジネスで成功を収めたいですか?Ringleader Samantha MartinとAmazing Acro-Catsは猫のサーカスのツアーアシスタントを探しています。
職務要件:
1. 動物を世話した経験があること。
2. 外交的な性格、ユーモアのセンスがあり、困難を乗り切る能力があり、新しい経験を受け入れられること。
3. 健康であること。
4. 劇場経験があること
5. ショーの手伝いをしてくれるボランティアと働き、教育できること。
動物と働いた経験があるなら、ぐずぐずしていてはいけません。すぐに申し込んでください
Used-cat salesman helps Calgary Humane Society adopt out 30 felines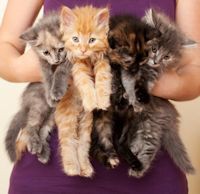 It's as cheesy as can be and features a moustachioed used-cat salesman trying to adopt out an abundance of cats at the Calgary Humane Society.
"Felines, felines, felines, feeeeeeeeeelines! We're literally bursting at the seams with quality felines," says the salesman in a less-than-subtle attempt to lure prospective cat owners.
"Black cats, white cats, tall cats, short cats. We've got cats of all makes, models and colours. They're ready to practically walk off the lot."
The video, just over a minute long and released last week on YouTube, has so far received more than 60,000 hits and helped the society find homes on the weekend for 30 cats -- about twice the normal number.
"If we were going to do this, we were going to do it right -- and by right we mean wrong -- and make it look terrible and as cheesy as possible," said Philip Fulton, the humane society's manager of community outreach who played the used-cat salesman.
"We decided to ... pull from used-car dealership commercials and self-produced commercials and ... it's gone like gangbusters. It's just kind of exploded and got a lot of attention for our event." Read More
カルガリー動物愛護協会の中古猫ディーラーが30頭の猫の里親探しに成功
口ひげを蓄えた中古猫のディーラーがカルガリー動物愛護協会でたくさんの猫の里親を探しています。
「ねこ、ねこ、ねこ、ねええええええこ! 高品質の猫がいっぱいいます」
「黒猫、白猫、大きな猫、小さな猫。色んな型、モデル、色を取り揃えています。いつでも納猫できますよ!」
YouTubeでこの1分ちょっとのビデオが流れ、これまでのところ60,000回以上視聴され、30頭の里親が決まりました。これは通常の約2倍の数です。
中古猫のセールスマンを演じた愛護協会のマネージャー、Fulton氏は、ソーシャルメディアの使用は反響が大きかったため、動物愛護協会は再度活用する可能性が高いと思います、と述べました。
Cat videos? Cat people take over real-life events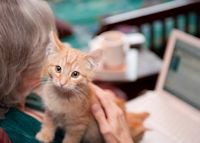 What a felicitous night! A legion of exultant fans lay on blankets in the outfield of CHS Field, while thousands more filled the stands, there to participate in one of this region's grand summer pastimes. Not exactly the beloved state fair, but close.
"Wouldn't dream of missing it," Teresa Heselton of Owatonna, Minn., said of her third annual pilgrimage to the event in St. Paul, Minn. "This is a really good time."
Her son, Carson, accompanied her, a pink kitty bed framing his bewhiskered face. It was a look that would appear strange anywhere else, but it won the 13-year-old fleeting celebrity for the evening and a swarm of smartphone snaps.
Heselton and her son were among a crowd of 13,000 enthusiasts who flocked to this new ballpark earlier this month, not for minor-league baseball but for a festival devoted to, wait for it — cat videos. Attendance set a record, for the venue and the Internet Cat Video Festival, now in its fourth purrrr-inducing year.
The festival highlights videos celebrating cats in all their guises, and beyond — cats as artists, as philosophers, as criminal masterminds (El Gato, not El Chapo), geniuses all. Read More
Summer fun can be hazardous to our felines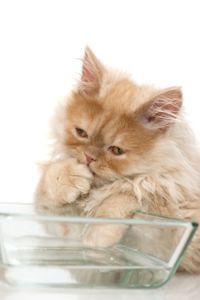 As much as we try to provide a feline-friendly home, sometimes we can encounter problems that occur because of different holidays or seasons.
Summer brings more problems for us to guard against because we are bringing more outside hazards indoors, sometimes unknowingly. The most obvious concern for summer is that our felines drink enough water, even through they are indoors. Sometimes our finicky felines need a taste adjustment or a visual perk to pique their interest in water. Bottled water, filtered water or water with ice can all aid in the encouragement to drink. Some of our felines need a more drastic step to drink more. A ceramic or stainless steel water fountain may solve the problem. The fountain can especially be the solution if your feline likes the sink or tub faucet. A fountain can mimic the flow or trickle. If this is the case, look for a spout or down-flow tap. If you have multiple felines, look for a fountain with spoc:uutts they can share. You should remember to change the filter as needed.